Rehabilitation Aids
Cervical Collar


Soft Cervical Collar is made of high density foam, covered with cotton stockinette, with a contoured cut for the chin. Resilient foam gives gentle support. Covered with soft cotton knit fabric for comfort and to prevent irritation. Also used as a night collar for sleeping.
Designed to provide comfortable immobilization with out the harsh uncomfortable firmness. Support laminated with foam for comfort and covered with soft cotton knit fabric. Air vents to prevent irritation and allow ventilation.
Vistacare cervical plus has an additional plastic reinforcement with busses for better immobilization and air circulation.
Presentation:
Available in
- Small
- Medium and
- Large sizes
---
Ankle Wrap
Ankle support with stabilizing strap, anatomically sewn. The sewn-on strap is passed around ankle in a figure of eight and attached with Velcro fastener. It offers excellent compression around the ankle, can be used either right or left ankle and can be worn inside the shoes.


Supports and eases the ankle joint after distortions, contusion, capsular ligament lesions, also postoperatively (e. g. following suture of fibular ligament rupture) as well as in rehabilitation, also in cases of chronic ligament instability. Also in mild ankle sprains and prevention of ankle sprain during activities of daily living.
Presentation: Available in Small, Medium, Large and Extra large sizes.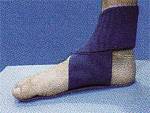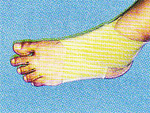 ---
Knee Brace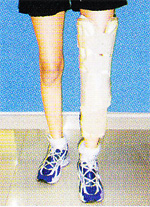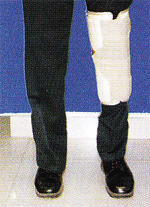 An excellent post-operative knee brace for knee injuries. Maximum bracing relives pain due to sprains, strains, muscle and ligament injuries.
A practical solution for early cast removal. Maximum insertible steel reeves effectively immobilize the knee after surgery. Spring steel stays on dorsal and lateral sides.
Long type covers mid thigh to lower leg, 18" or 45cm long.
Short type covers knee cap only, 12" or 30cm long.
Presentation: Available in Small, Medium, Large and Extra Large Sizes.
---
Elastic Knee Support
An excellent elastic knee support. Elasticity is retained for long period of time. Effective Athletic support for rheumatic or arthritic pain.
Can be adjusted to give loose or firm support.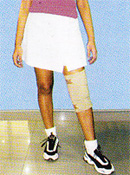 Elastic Knee Cap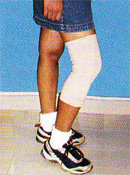 Gives mild support and warmth. Ideal for arthritic condition. Relieves stiff, swollen & painful knee caused by weakness or strain.
Made from soft fabric for comfort. Prevents loosening due to prolonged use since it contains heat resistant rubber thread.
Presentation: Available in Small, Medium, Large and Extra Large Size.