Rehabilitation Aids
Arm Sling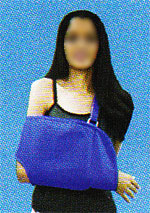 A comfortable support for either right or left arm during recuperation from fracture, sprain or surgery.
The arm is slipped into the pouch and the elbow fits snugly the corner pocket.
The shoulder strap is adjusted so that pouch uniformly supports the forearm and hand in a comfortable horizontal or slightly elevated position. Sling can be easily removed and applied without change in adjustment.
Made from durable cotton fabric and requires only normal laundry care and line dry.
Presentation: Available in small, Midium, Large and Extra Large Size.
---
Rib Belt
A universal rib belt for men and women. Anatomically contoured to give a comfortable fit.
Fine elastic webbing allows chest expansion for breathing while supporting the rib cage.
Reduces discomfort cause by sudden rip cage expansion from deep breathing, coughing, or sneezing during recovery from rib injuries.
Made of ventilated elastic. Washable cold water with mild detergent.
Presentation: Available in small, Midium, Large and Extra Large Size.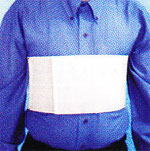 ---
Shoulder / Arm Support

For the post-operative immobilization of the shoulder and upper arm; Also for severe distortions or fractures in the region of the shoulder and upper arm, rupture of the acromioclavicular joint, rotator injuries, shoulder luxation and impingement syndrome;
Unique chest strap immobilized the upper arm eliminating the need for a humeral cuff; Chest strap fits both female and shoulder strap and forearm cuff may be placed in desired position;
Presentation: Available in Small, Medium, Large and Extra Large Sizes.
---
Skin Traction Kit
VIATACARE Foot/Skin Traction Kit is used as a below knee traction.
The skin traction strips provide maximum aeration to the skin while securely attaching its center extremity to the spreader at foot-end. The foam strip is fastened to the leg with simple pressure of an "Elastic Bandage".
Instructions For Application:
Apply strip from one end of knee round the foot to the opposite end of the knee.
Leave loop space at food-end of the leg.
Insert spreader inside this loop space.
Wrap 'Bandage' on the strip.
Tie cord on spreader nose and pass the cord through the pulley and then hang the weight.
Do not exceed more than 3 Kgs. Weight.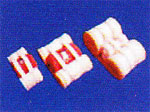 (with low allergy adhesive)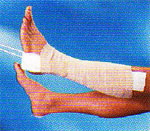 Foot / Skin Traction Kit
(Non-Adhesive)
Presentation: One size fits to all. Available types are in Regular, Deluxe and Adhesive. "Bandage" to be procured by the user. The "Elastic Bandage" Will not be supplied with this kit.