Patient Care Devices
Technical Specifications & Salient Features
Catheter
| | | | | | |
| --- | --- | --- | --- | --- | --- |
| Product Code | Color Code | Gauge | Outer Diameter mm | Length mm | Water flow rate ml / minute |
| VC-14 | Orange | 14G | 2.0 | 45 | 270 |
| VC-16 | Grey | 16G | 1.7 | 45 | 172 |
| VC-18 | Green | 18G | 1.2 | 45 | 76 |
| VC-20 | Pink | 20G | 1.0 | 33 | 54 |
| VC-22 | Blue | 22G | 0.8 | 25 | 31 |
| VC-24 | Yellow | 24G | 0.7 | 19 | 14 |
Ptfe Catheter:
international accepted excellent quality Teflon (P.T.F.E. Tubing) is completely imported. The tip of the catheter is tapered doubly with chamfer allows for easy insertion into the vein. Also its compatibility nullifies any chance of thrombophlebitis.
Needle:
Back cut ground, siliconised and beveled, stainless steel needle for smooth & painless puncture.
Non Return Valve:
Its smooth inner surface ensures absolutely free flow of blood. The outer diameter of silicon tubing synchronizes with the inner diameter of the main body resulting into absolutely no leakage.
Ultrasonic Cleansing:
Cannula is ultrasonically cleaned, smoothened and has three faced back cut bevel.
Sterilization:
I.V. Cannula is passed through a 100% Sterility Test. Sterilization done using Ethylene Oxide Gas.
Packing Paper:
Packing in special Tyvek (from Dupont) & medical grade peper, which gives a perfect, peel off.

Disposable Syringes Specification & Packaging

Size
Type
Packing
Inner
Outer

1 ml. (U-40)

Insulin (Uni – Body )

100 PCs / Box

100 x 30 = 3000/ Carton

1 ml.(U-100)

Insulin (Uni – Body )

100 PCs / Box

100 x 30 = 3000/ Carton

1 ml.

Luer Slip

100 PCs / Box

100 x 30 = 3000/ Carton

3ml.

Luer Slip / Luer Lock

100 PCs / Box

100 x 27 = 2700/ Carton

5 ml.

Luer Slip / Luer Lock

100 PCs / Box

100 x 18 = 1800/ Carton

10 ml.

Luer Slip / Luer Lock

100 PCs / Box

100 x 12 = 120/ Carton

20 ml.

Luer Slip / (Eccentric)

50 PCs / Box

50 x 12 = 600/ Carton

50 ml.

Luer Slip / (Eccentric)

25 PCs / Box

25 x 12= 300/ Carton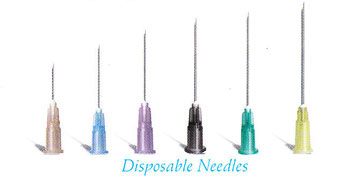 Disposable Needles Specification & Packaging

Size
Type
Hub Colour
Packing
Inner
Outer

26G (0.45mm)

1/2"(12.7mm), 11/2" (38mm)

Brown

100 PCs/ Box

100 x 50 = 50000 / Carton

24G (0.55mm)

1"(25mm)

Medium Purple

23G (0.60mm)

1"(25mm), 11/4" (32mm),

Deep Blue

22G (0.70mm)

1"(25mm), 11/4" (32mm),

Black

21G (0.80mm)

1"(38mm), 11/4" (32mm),

Deep Green

20G (0.90mm)

1"(38mm), 11/4" (32mm),

Yellow

18G (0.20mm)

1"(38mm), 11/4" (32mm),

Pink